The American Dissident Reviewed
What spurred me to create this page was a conversation with a local librarian (Westford, MA), who informed me her library only considered subscribing to journals that had been reviewed. It should also be noted that a number of reviewers have simply refused to review The American Dissident evidently because of its critical stance. Below are reviews effected by Counterpoise, Zine World, and The Midwest Book Review. Note that The American Dissident has now been reviewed, the local librarian mentioned above, will still not subscribe. She mentioned a review by Library Journal would be best. And of course, that journal refuses to review The American Dissident. See the American Library Association with that regard and the account of my attempts to get local libraries to subscribe, "You Have Been Spam Foldered."

Counterpoise for Social Responsibilities, Liberty, and Dissent (2007). For Counterpoise front-cover interview with the editor, see Interviews.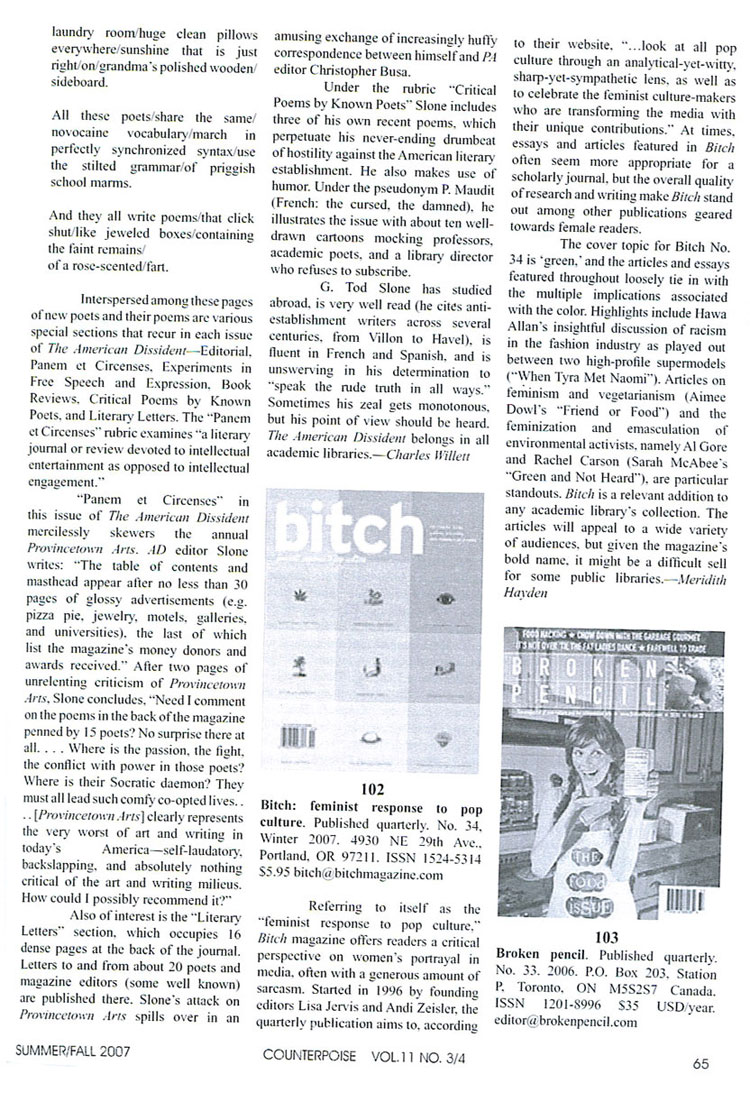 Zine World (2007)
The American Dissident #14: "A Literary Journal of Critical Thinking." Tod has an axe to grind, ever since he was banned by court order from Fitchburg State College. He calls for submissions "on the edge with a dash of risk, and stemming from personal experience, involvement, and/or personal conflict with power." When he doesn't get the hard-hitting essays he asks for, he bellies up to the keyboard himself. American Dissident is an exceptional collection of literary grade poetry, with some comics and prose mixed in. Paperback bound booklet. G. Tod Slone, 1837 Main St., Concord MA 01742, www.theamericandissident.org, todslone@yahoo.com [$8, $16 for 2 56S 1:00] –Jack
The Midwest Book Review (2005) www.accessmylibrary.com/coms2/summary_0286-9111754_ITM.
The American Dissident: a semi annual Literary Journal
Editor G. Tod Slone
The American Dissident
1837 Main Street, Concord MA 01742
www.theamericandissident.org
No ISBN Subscription $15 annually, $8 single issue

A writer / poet in Tennessee sent me a copy of The American Dissident because he thought I would enjoy its distinctive premise and style. At first view, I was impressed with its perfect bound presentation and clear dark font. This is not a fluff journal, not one to read through in one sitting and forget. Its purpose is clearly stated:

Truth, Wisdom, and Protest in Poetry and Other Writing In the Spirit of Revolutionary Patriots

The Editor, Dr. G. Tod Slone, puts his money where his mouth is. He receives no monetary support, no grants with which to fund this journal. The editor and subscribers provide the only financial support. That may be for the best since monetary support and grants have invisible strings attached. Such strings often act as both muzzle and carrot, as stated by one submitter. It's very difficult to protest when one is both blind and mute. This very lack of "strings" allows for pure dissent, voiced by Americans of every age group and walk of life, male and female.

The American Dissident reflects the sort of dissidence practiced by writers and patriots when America was young and idealistic. The hard truth is spoken here in clear voices. Dr. Slone encourages submissions based on the "...Samizdat tradition of engaged writing...examining the Dark Side of the Academic / Literary Industrial Complex."

Samizdat is a term originating in Russia, meaning the publication and distribution of literature banned by the government. In America, where supposedly nothing is banned, Samidzat refers to dissenting voices spread through underground presses. Either meaning can apply to Dr. Slone's Journal.

The Winter / Spring 2005 edition of the Journal features poetry, essays, and cartoons: poetry about inequities in literature, health care, employment and the caste system America supposedly does not embrace; essays about the good old boy and girl system thriving in all things literary; and cartoons that are both hilarious and sobering because of the truths revealed in them. All are submitted by real American taxpayers whose truths found voice in this Journal. I particularly relished the "Open Letter to Henry David Thoreau" and the references to Emerson -- both of whom were outspoken dissenters in their day.

The spoken and unspoken message of The American Dissident is that voices of dissent have nothing left to lose. Everything has been stripped away already by Literary and Governmental entities determined to control, contain and silence dissenting voices. All that remains is truth, pride, courage, and voices that will not be silenced no matter what bully tactic may be applied.

I thoroughly enjoyed this Journal and compliment the Editor for his determination to present dissenting voices. Where things literary, in particular, are concerned, this is not your common, everyday journal.
Laurel Johnson
Senior Reviewer